Send faxes
From our website
Transmit your documents (PDF, Microsoft Office, plain text, …) conveniently from our web site. No additional software is required.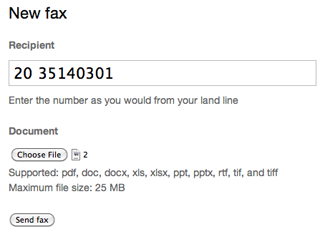 ---
Faxprinter (Windows / Mac/iOS/Android)
Our very own, home-grown software enables you to fax from any application that is print-enabled.
Upon printing on your new "Faxprinter" printer a new window emerges, allowing you to enter the recipient's phone number.
For smartphone, tablet, iPhone, iPad, we offer our FaxApp software.
---
Bulk faxes
Keep your customers updated rapidly and economicial with our bulk fax solution.
Simply send us your fax and distribution list and we'll take care of the paperwork.
No initial setup fees or Faxapp account required. Throughput up to 30,000 pages per hour.
Prices start at £0.04 per sent page.